Co-brand Partnerships





FREE EMAIL
MAILING LIST
subscribe
unsubscribe

NEWS SEARCH
WEB DIRECTORY
WEB SEARCH
CITY GUIDES
WEATHER
MASTERING
THE TRADE
ORIGINAL, INTERACTIVE SEMINAR ON TRADING USING
TECHNICAL ANALYSIS
EARNINGS ESTIMATES
U.S. QUOTES
U.S. CHARTS
TECHNICAL OPINION
CANADIAN CHARTS
SEC FILINGS
BROKER RESEARCH
Reality Check Charts
a weekly feature
Chart Commentary by
Mitch Harris of the Reality Check newsletter
Chart Archives
3/2/00 Chart of the Week: The Oil Service Index (OSX)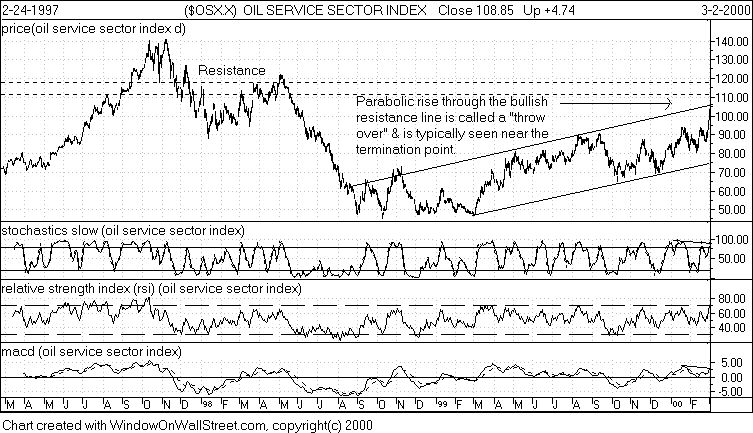 Oil Service stocks have been one of the few (non-tech related) areas of the market that have continued rising against the majority of market sectors that have been mired in bear markets.
We try to identify buying and/or selling opportunities by anticipating significant turning points before they occur. We think this is one of those opportunities where, while the trend remains bullish, we see some reasons that warn that this trend could be close to ending. This means that in our opinion, investors who are already invested in this area should be on heightened awareness for a potential bearish trend reversal. For those who are not already invested here, it is too late to jump aboard now.
While these stocks have been in a sustained uptrend, they have so far risen to a Fibonnacci .618 retracement of the devastating losses they endured from their 11/97, 140 high to their 3/99, 47.14 low. This retracement of about 2/3 is very typical of a bear market rally.
Looking at the three indicators below the daily price chart, Stochastics and MACD are making lower highs against the higher prices creating bearish divergence's. Well above 70%, RSI is overbought, as are the other two. With prices also stretched into major resistance and above the bullish resistance line, the odds now indicate that further gains are unsustainable. While this does NOT mean that further upside progress must end, the evidence suggests that we should anticipate that it will soon.
Market Trend Realities (MTR) is a Registered Investment Advisory which manages personal, corporate, Trust, and retirement accounts on a fee only basis. Several low cost, flexible management fee arrangements are available. Investment Advisor, Mitch Harris has studied the Point & Figure Charting Method under the direct supervision of Michael Burke, Editor of the prestigious Investors Intelligence research organization. Management is based on a unique combination of technical analysis methods and tools which include, The Point & Figure charting method, Elliott Wave Analysis & techniques, industry group analysis, cycle analysis, Relative Strength Analysis, Stochastics, and investor sentiment studies. MTR offers a very uniquely structured managed mutual fund program using the RYDEX family of mutual funds, which offer outperformance potential whether equity markets are rising OR falling! Inquiries are welcome by calling us at (513) 421-8737, or by email at: mtr@fuse.net
MTR also publishes a monthly investment newsletter called "Reality Check", which offers technical commentary on the stock & bond markets, the Dollar Index, gold & gold stocks (XAU), Treasury yields, utilities, investor sentiment, and Federal Reserve policy. It also offers stock trading recommendations each month with price targets, stop loss points and insider activity. There are 4 trading portfolios, including a short selling account (we are very proud that our short sale recommendations have averaged 12.5% "compounded" during the roaring bull market of the last 5 years). Short term market commentaries are updated on Tuesday and Friday mornings, along with portfolio changes on this web page. They are also emailed for free to anyone who provides us with their email address. The regular subscription rate is $200 (US) per year. A special first time subscriber rate of $139 is available to viewers. Samples are available upon request. MTR will be happy to send information on any of the above mentioned services. Please email us your home or business address and specify your interest(s).